You are a


Social Liberal
(73% permissive)




and an...


Economic Conservative
(66% permissive)




You are best described as a:



Libertarian



OkCupid claims that Obama is a socialist and McCain is a centrist... to emphasize what a great guy McCain is, they make his huge grinning face bigger than all the other celebrities. So is Obama really a socialist, or is OkCupid just running a McCain ad here? This does not agree with any of the "match your candidate" quizzes I've taken, which all say Obama is a far better choice for me than McCain... indeed, Obama usually comes out either 1st or 2nd place among all candidates. If I'm to believe OkCupid, McCain is actually closer to me than Obama. Very suspicious!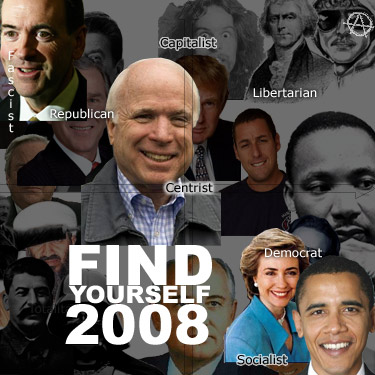 Link: The Politics Test on OkCupid.com: Free Online Dating

Also : The
OkCupid Dating Persona Test
According to OkCupid, I'm halfway between Martin Luther King and Adam Sandler... that part, I wouldn't argue with at all. It's more the positioning of Obama that I'd dispute.
P.S. In addition to screwing up Obama's location, I think they are also wrong on the Unabomber. I've read his manifesto, and he's an anarcho-primitavist not an anarcho-capitalist. So I'm pretty sure he belongs in the the lower-right corner not the upper-right.